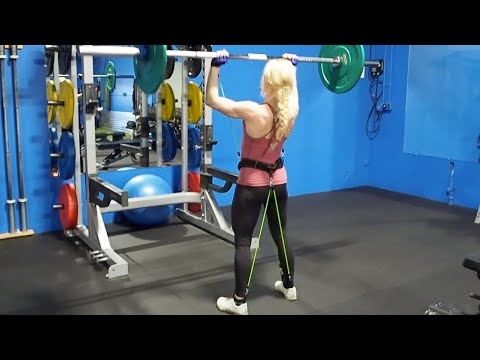 WearBands™ for Cross Training
More Endurance
More Strength
More PBs!
Would you like to see your personal bests go up?
Are you interested in getting more out of your cross training workouts?
Fast on/off ▪️ Safety-proof design ▪️ Scientifically proven
The World's most versatile functional training system
What does it do?
WearBands' constant tension simultaneously reaches and activates more core, glute and leg muscles over a longer period of time during any lift or activity, increasing functional strength and muscular endurance.
Increases cardio by 15+%, calorie burn up to 30% and delivers an improved physique you can feel and see.
In the absence of other resistance, significantly intensifies bodyweight workouts at-home, outdoors and while traveling.
How does it compare to other training accessories?
Single accommodating resistance bands require time to put on, move, remove and configure, and often times only work an isolated muscle group. You train less efficiently and lose time fussing with them. WearBands™ stay on you throughout your workout, so you can move seamlessly from one exercise to another, and no matter what you are targeting, secondary areas benefit as well for a more efficient workout.
Applying accommodating resistance does not have to mean applying additional impact. Unlike weighted vests and other external weights, WearBands delivers all of the resistance and none of the extra impact or strain on joints.
Versatility! Wearbands™ can be used for dynamic warm-ups, with barbells, dumbbells, medicine balls, box jumps, burpees, running...anything! No other single tool can add accommodating resistance to any exercise with any other equipment. Lightweight and portable, it can be taken anywhere to add resistance to any activity of any kind.
WearBands is fully customizable for any size and fitness level. 5 resistance levels are included to challenge anyone doing anything and you will never plateau!
Versatility + Results = Value
WearBands™ enhances the results of any workout, so you'll use it all the time. No matter the exercise or activity, adding WearBands™ will get you more results...period. It will be your most-used training tool, because there is nothing you cannot do with it.
An at home, at the gym, outdoor and travel fitness system.
Whether for a normal workout, or if you are short on time, WearBands™ packs the maximum results per workout possible. What's that worth!?
Browse other Activities you can do with WearBands