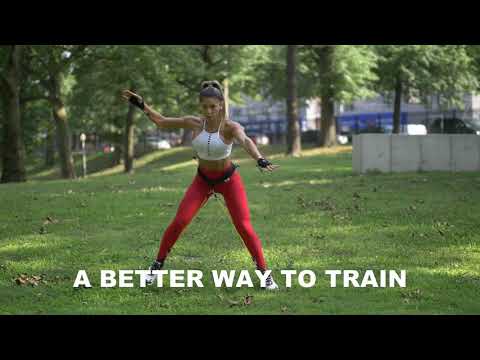 WearBands™ for Fitness Training
More Muscles Engaged
More Calories Burned
More Cardio
Activate 20-80% more muscle over a longer period of time.
Increase calorie burn by over 25+% doing anything.
Increase average heart rate 10+% doing anything.
There is nothing you cannot do in WearBands™!
What does it do?
WearBands' constant tension reaches and activates far more muscles over a longer period of time during any workout or activity, delivering the most productive, time-efficient workout possible.
You will activate 20-80% more muscle (50-80% in the posterior chain), burn at least 25% more calories and increase your average heart rate by at least 10%.
At-home, outdoors, in the gym, traveling, anywhere, if you want to know that you are getting the most results possible from any workout or activity, all you need to do is add WearBands!
The WearBands™ Advantage and Value.
In the crowded world of fitness accessories, there has never been one simple tool, which you can easily add to absolutely any workout or activity you choose and substantially increase the results...until now. Say goodbye to "pseudo-functional" free weight workouts, which limit true functional movement and limit your muscles' all-important time under tension. Say goodbye to the endless reps and sets and limited muscle engagement of bodyweight workouts. Say goodbye to finding time to squeeze in cardio day. Now, with one tool, you get the freedom and convenience of bodyweight workouts combined with dynamic functional resistance, which moves as you move, to deliver, without question, the most efficient and effective workout possible in the least amount of time. And cardio? Don't worry about it...every WearBands™ workout becomes a cardio workout!
Unlike most other fitness accessories, which are one-trick ponies used for one or a few kinds of exercise, WearBands™' uses are virtually unlimited. This is not a tool you will pull out once or twice a week (or less?) to do one thing. You will put on your WearBands all the time to do whatever you happen to be doing, and enjoy the added benefits.
WearBands™ is fully customizable for any age, size and fitness level. Three or five lower-body resistance levels are included (2 additional levels come with the upper-body system) to challenge anyone doing anything and you will never plateau!
Wearbands™ Delivers Far More Results Than are Possible Without them...Period.
You shouldn't have to subject yourself to workouts you don't enjoy or find boring, just because the tools you are using force you to do those workouts. You don't have to stand in one place doing repetitive exercises over and over and over...and over, because someone tells you that's how many reps you need. The human body likes to move and resistance should be designed to move with it. Well, now it is, and fitness will forever be more fun and more productive.
If you are interested in learning more about WearBands™' advantages for a specific kind of workout, please choose from the options to below.